PRAGUE NATURAL HISTORY MUSEUM
NÁRODNÍ MUZEUM

Václavské náměstí 68, 115 79 Praha 1, Czech Republic
Written By Aubrey Whymark 2011-2017
Based in Prague the National Museum of the Czech Republic has been the source of many papers on Moldavites. An amazing collection of Moldavites can be found here! I visited in 2011 - see my presentations here:

An Old Museum
The Natural History Museum in Prague was founded in 1818. 

In 1788, Mayer was the first person to publish on tektites / moldavites. His article was titled 'Über die Böhmischen Gallmeyarten, die grüne Erde der Mineralogen, die Chrysolithen von Thein und die Steinart von Kuchel'.
 
Full size presentation:

Website
You can find the museum's website here: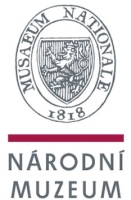 Mobile friendly

presentation:

You can also download a PDF of the Prague Natural History Museum Tektite Collection Presentation here:

Download
Full size presentation:

Mobile friendly

presentation:

You can also download a PDF of the Prague Natural History Museum Meteorite Collection Presentation here:

Download